Regular price
$500.00 USD
Regular price
Sale price
$500.00 USD
Unit price
per
Sale
Sold out
"Our unit's craft shop has been closed for 3+ years and I dont have the store bought variegated or composition gold leaf. So I put ice cream lids through a hot water dipping process to separate the gold siding and use it as kind of a gold leaf I did on this piece. I used a lot of acrylic medium to also use dirt and create that effect which you are able to appreciate if you look at the painting from different angles. The gold of the 'gold leaf' and the gold paint make this painting glow and shimmer depending on how the light hits it."
⚖ Description

The artist is currently incarcerated in Texas. He specializes in large, colorful acrylic paintings.

All original artworks are created by artists previously or currently incarcerated. They use whichever materials they have access to, and prove creative ingenuity beyond the norm. These original paintings and drawings are born in the heart of a prison cell, from the hands of an outsider artist to adorn the walls of your space. Each art piece is a one-of-a-kind that not only enhances your interior but also makes you actively participate in reforming the prison and criminal justice system.

The incarcerated artist receives 50% of the sales proceeds. The artists set their own prices based on the costs of materials (it can vary greatly from one facility to another), the time spent on the piece, their experience, and simply - what they think it's worth. Alongside with offering a financial outlet, we aim to empower their confidence and reinstitute their status as human beings - not a number behind bars. For most, art is an escape, a path to self-discovery and healing. Through art, they can reconnect with society so the gap is not so unbridgeable when they get out. Through the sales, they can stay connected with their families, afford daily commissary items, pay societal debts, relieve the economic burden on their loved ones, and save up for the release date. So they have the financial means to get ahead of reinsertion and get a fair chance at that second chance.
✎ Product Details

15" x 20" | Acrylic , dirt and gold siding on Crescent Illus. Board
✑ Artist's bio

I was born in El Paso Texas and raised in Cd. Juarez, Chih., Mexico. I got locked up while living in Laredo Texas at the age of 16 and am presently doing 30+ years of incarceration. I've been drawing and painting and have been artistically creative since I can remember but the effect of being locked up focus and therefore enhance my knowledge and abilities in everything that deals with art. I was introduced to acrylics in '92 by Alonzo, a Cuban arms dealer who got caught in Laredo and in '99 an old heroin addict by the name of Crespo tricked me into working with oils. He had tried to persuade me to paint with them, claiming it was easy. I thought I had to go to school to learn to paint with them. Coincidentally he was painting a Virgin of Guadalupe and told me he couldn't paint a certain line and asked me to do it because his hand hurt. I told him I didn't want to ruin the painting since I didn't know how to paint with them and he urged me to try. I fell in love with oils! These were my teachers along with so many other prisoners from whom I learned a little technique or two, you can imagine all the arts forms I've seen in juvenile, county, state penitentiaries and even the state hospital: 30+ years of learning. The only formal art instruction I had was in high school which lasted a week and a half. I mouthed off to the teacher. It was about my assessment of her art skills which she didn't like. She tried clowning me in front of the other students. Needless to say, I was expelled from that class. I am currently a unit artist at my unit and my canvases have been walls. I love doing mural work. But I also know how to work on wood, metal and leather. God willing you will be seeing some more of my creations through this outlet and whenever the craft shop opens and I am able to paint on more than just illustration boards with acrylics..
[◉"] Artist's social media
Share
View full details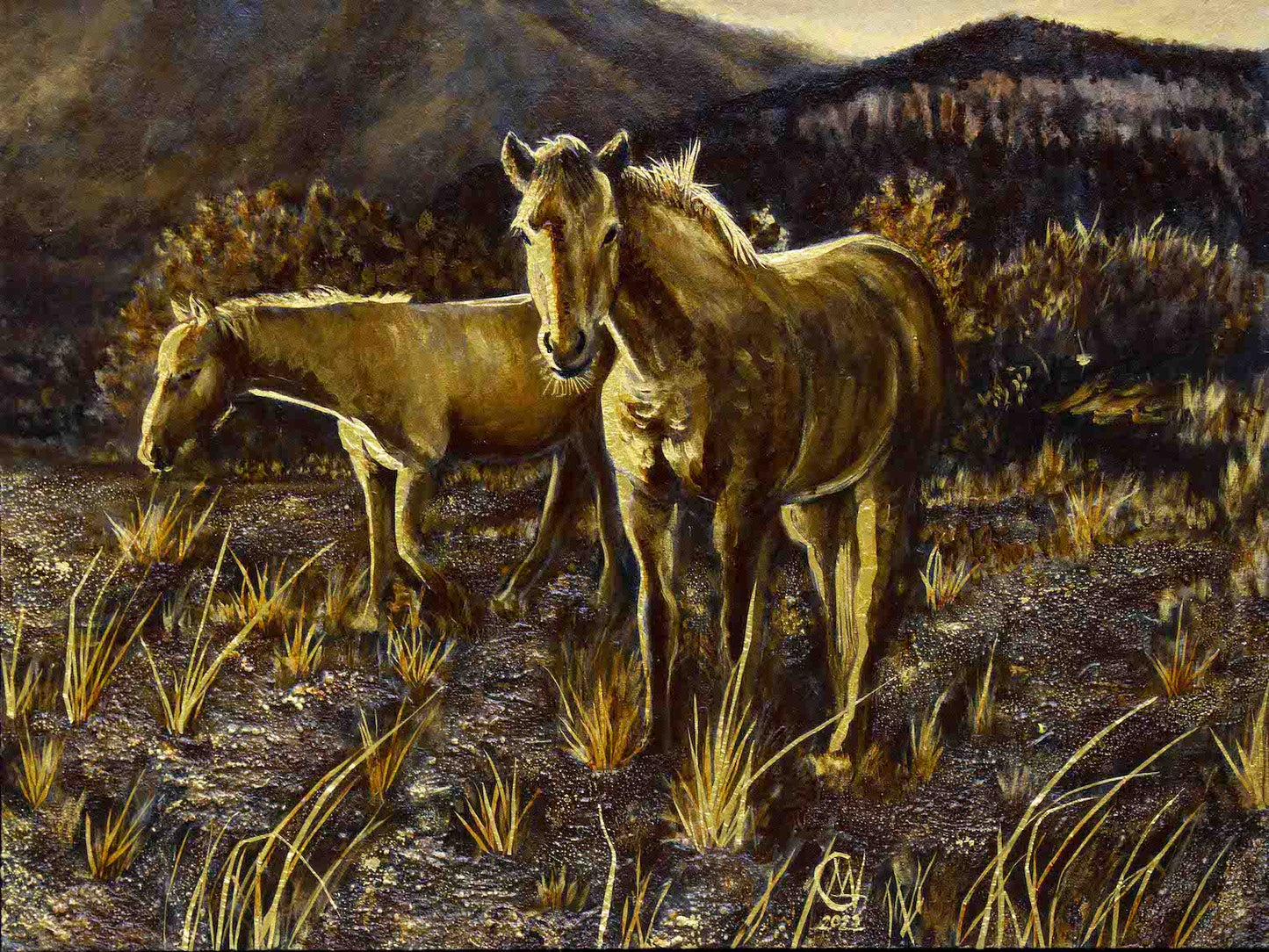 More from Miguel Angel Venegas
Vendor:

Regular price

$400.00 USD

Regular price

Sale price

$400.00 USD

Unit price

per

Vendor:

Regular price

$500.00 USD

Regular price

Sale price

$500.00 USD

Unit price

per

Vendor:

Regular price

$600.00 USD

Regular price

Sale price

$600.00 USD

Unit price

per