Regular price
Sale price
$80.00 USD
Unit price
per
Sale
Sold out
" The story of the garden of Eden is not a about the mere disobedience of eating some forbidden fruit. The "Serpent" or Lucifer tricked Eve & Adam into sexual sin. Creating dual bloodlines with Cain & Abel. Creating two conflicting lineages. "
⚖ Description

The artist is currently incarcerated in Idaho. He specializes in religious art.

All original artworks are created by artists previously or currently incarcerated. They use whichever materials they have access to, and prove creative ingenuity beyond the norm. These original paintings and drawings are born in the heart of a prison cell, from the hands of an outsider artist to adorn the walls of your space. Each art piece is a one-of-a-kind that not only enhances your interior but also makes you actively participate in reforming the prison and criminal justice system.

The incarcerated artist receives 50% of the sales proceeds. The artists set their own prices based on the costs of materials (it can vary greatly from one facility to another), the time spent on the piece, their experience, and simply - what they think it's worth. Alongside with offering a financial outlet, we aim to empower their confidence and reinstitute their status as human beings - not a number behind bars. For most, art is an escape, a path to self-discovery and healing. Through art, they can reconnect with society so the gap is not so unbridgeable when they get out. Through the sales, they can stay connected with their families, afford daily commissary items, pay societal debts, relieve the economic burden on their loved ones, and save up for the release date. So they have the financial means to get ahead of reinsertion and get a fair chance at that second chance.
✎ Product Details

9" x 12" | Graphite, Charcoal, Pencil & Pen on 2ply tag boards
✑ Artist's bio

"My Name is Angelo "C. Street" Cervantes. I was born into a big family to a hard-working man & a mother with severe drug & mental health issues. I was abused & never learned how to express myself to others than through violence. Until I truly found Art. I doodled like every kid but never thought I had talent. I made some awful decisions that caused two families to lose a son, brother, father & significant other. I took responsibility for my decisions & now serving a 15 to life sentence. During all my dark times in prison, I found myself with God & began to truly change myself for the better. Through Art, I've rebuilt relationships, met true friends, changed my whole outlook on life. Which has made me a better person, giving me a way to express myself. Through my art pieces I've been given a new honest way to live & spend my life. Through my artwork I've been able to affect people in a positive way in prison or out in the real world. Art is the voice of our souls as artists. It is our honor to share those voices to the world.
All 5 pieces are kinda biblical or science fiction depending on your views. Based on the Nephilim from the Old Testament & the Book of Enoch. Which speaks of giants, these Nephilin "when the sons of God looked upon the daughters of men & found them fair, and took of them wives as they chose." This combined with reading books by Scott Alan Roberts, Carl Sagen, Hieser, Hines and likes. The centuries-old debate over mankind biblical or extra-terrestrial origins. Brings my own interpretations.".
[◉"] Artist's social media
Share
View full details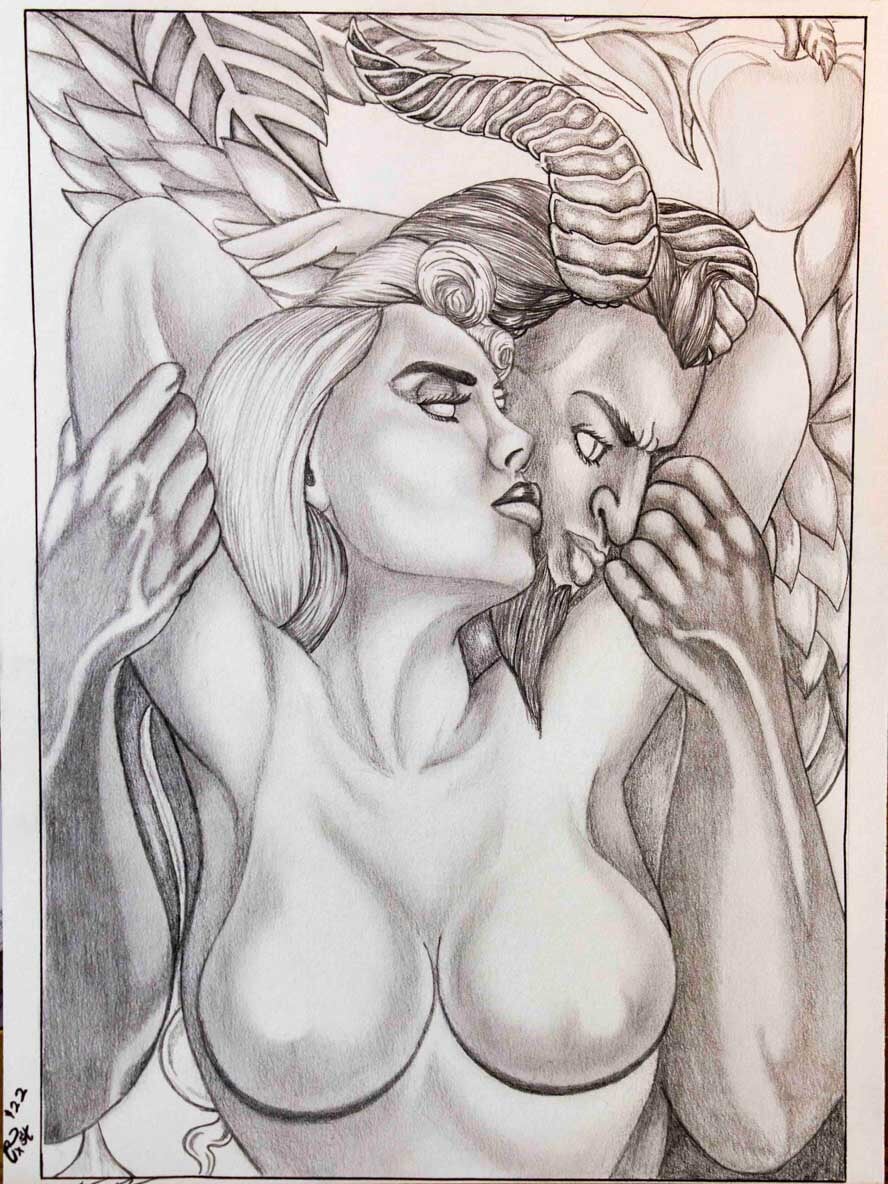 More from Angelo Cervantes