Regular price
Sale price
$35.00 USD
Unit price
per
Sale
Sold out
Currently incarcerated in Kentucky.
"I deal with a lot of different personality types, but mostly a bunch of smart-ass dudes, so I created the SABOTY Award, which stands for 'Smart Ass Bitch of the Year'."
⚖ Description

The artist is currently incarcerated in Kentucky. He specializes in humoristic & satyrical drawings.

All original artworks are created by artists previously or currently incarcerated. They use whichever materials they have access to, and prove creative ingenuity beyond the norm. These original paintings and drawings are born in the heart of a prison cell, from the hands of an outsider artist to adorn the walls of your space. Each art piece is a one-of-a-kind that not only enhances your interior but also makes you actively participate in reforming the prison and criminal justice system.

The incarcerated artist receives 50% of the sales proceeds. The artists set their own prices based on the costs of materials (it can vary greatly from one facility to another), the time spent on the piece, their experience, and simply - what they think it's worth. Alongside with offering a financial outlet, we aim to empower their confidence and reinstitute their status as human beings - not a number behind bars. For most, art is an escape, a path to self-discovery and healing. Through art, they can reconnect with society so the gap is not so unbridgeable when they get out. Through the sales, they can stay connected with their families, afford daily commissary items, pay societal debts, relieve the economic burden on their loved ones, and save up for the release date. So they have the financial means to get ahead of reinsertion and get a fair chance at that second chance.
✎ Product Details

8.5" x 11" | Pen on notebook paper
✑ Artist's bio

I am incarcerated at United States Penitentiary McCreary, which is a maximum security federal prison in Pine Knot, Kentucky. Yesterday made exactly 62 months that I have completed, and USP McCreary is the fifteenth facility I have been to since my arrest on December 6, 2015. Because of COVID, we are on a 22 hour a day lockdown here, and I utilize my time in the cell working out, listening to the radio, reading, and drawing. I recently had the pleasure of being introduced to 'Inked Magazine' and I am enjoying it thoroughly. I ran across the advertisement 'Art for Redemption' and decided to send in two pieces I drew. Over the years, I have run into some incredible artists who are locked up that do cards to send home, designs for tattoos, and pictures to pass time in a constructive manner. Most of these guys are much better than anything I could do. I don't do realism at all; most of my stuff is more cartoonish with a sense of humor to make other convicts laugh. About 2017, I started drawing the 'Let Meow-T Cat' on walls in the different cells I was in, and people seemed to think it was pretty funny. So I did cards for guys to send back to their families. I deal with a lot of different personality types, but mostly a bunch of smart-ass dudes, so I created the SABOTY Award, which stands for 'Smart Ass Bitch of the Year'. I'm sending in two pieces to consider for the Prison Art Coffee Table Book not because of the 'fantastic skills with a pen', but for the originality and glimpse into my world as I see it and draw it. Even if they don't make the cut, I still think there's someone out there who might smile about it. I'll be ending this entire thing no later than mid-July this year, and heading back to Birmingham, Alabama to start my three years of federal probation..
[◉"] Artist's social media
Share
View full details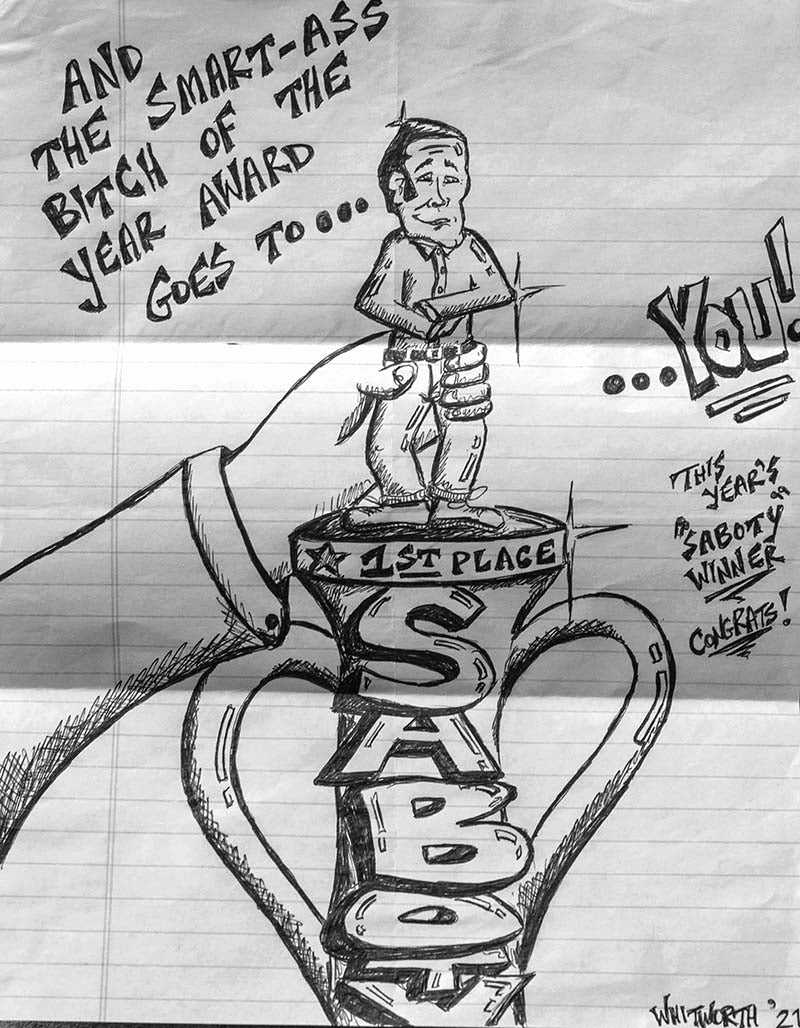 More from Wesley Whitworth