Regular price
Sale price
$60.00 USD
Unit price
per
Sale
Sold out
Currently incarcerated in Texas.
"Creating artwork unlocks the mind & frees the soul! Keep up the great work artists."
⚖ Description

The artist is currently incarcerated in Texas. He specializes in black & white Chicano style drawings.

All original artworks are created by artists previously or currently incarcerated. They use whichever materials they have access to, and prove creative ingenuity beyond the norm. These original paintings and drawings are born in the heart of a prison cell, from the hands of an outsider artist to adorn the walls of your space. Each art piece is a one-of-a-kind that not only enhances your interior but also makes you actively participate in reforming the prison and criminal justice system.

The incarcerated artist receives 50% of the sales proceeds. The artists set their own prices based on the costs of materials (it can vary greatly from one facility to another), the time spent on the piece, their experience, and simply - what they think it's worth. Alongside with offering a financial outlet, we aim to empower their confidence and reinstitute their status as human beings - not a number behind bars. For most, art is an escape, a path to self-discovery and healing. Through art, they can reconnect with society so the gap is not so unbridgeable when they get out. Through the sales, they can stay connected with their families, afford daily commissary items, pay societal debts, relieve the economic burden on their loved ones, and save up for the release date. So they have the financial means to get ahead of reinsertion and get a fair chance at that second chance.
✎ Product Details

8" x 11" | Pencil on paper
✑ Artist's bio

I've been creating artwork ever since my earliest of memories. I go to sleep thinking about artwork and I woke up thinking about art. Art is life and life if art. The art world has evolved steadily over the years. There's constantly a new wave, so knowing that keeps me energized & motivated to keep working hard at perfecting my craft while trying new things also. I consider my style to be referred to as "Southside" Black & Grey. I love the West Coast style and respect it to the fullest but we have a gangster black & grey style in the South also and we go hard too! I love the hard legendary work of Mister Cartoon, Jose Lopez & the lowrider tattoo guys. Their work is inspirational & motivation at its finest. I enjoy doing large scales of work, such as sleeves, back pieces, chest pieces. I love the design & creative process of freestyle artwork. It makes it custom & unique by far. Through countless hours of hardwork there's always room & ways to improve and level up, therefore I'm never content & steady striving to be better on a daily basis. I want my next piece of artwork to be better than my last piece. I am my biggest critic on my mission chasing artistic perfection which I know will be never ending! I think every artist feels this way! Thank to Buck for this amazing opportunity to and platform to showcase my talents to the world while being behind the wall! Creating artwork unlocks the mind & frees the soul! Keep up the great work artists.
[◉"] Artist's social media
Share
View full details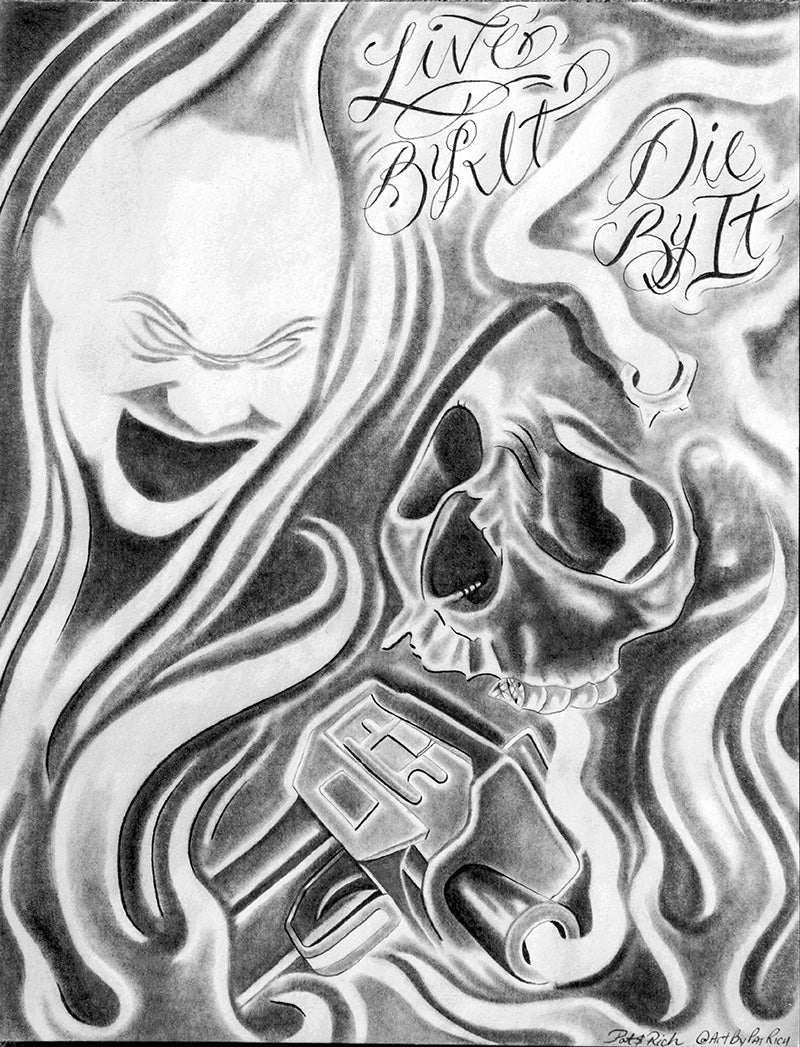 More from Patrick Richardson