Regular price
Sale price
$25.00 USD
Unit price
per
Sale
Sold out
Currently incarcerated in Colorado.
"Art seemed to save my hope and I can sit back and say "Yes, I did that." As you can tell, I am a cowboy at heart and I love it."
⚖ Description

The artist is currently incarcerated in Colorado. He specializes in western style.

All original artworks are created by artists previously or currently incarcerated. They use whichever materials they have access to, and prove creative ingenuity beyond the norm. These original paintings and drawings are born in the heart of a prison cell, from the hands of an outsider artist to adorn the walls of your space. Each art piece is a one-of-a-kind that not only enhances your interior but also makes you actively participate in reforming the prison and criminal justice system.

The incarcerated artist receives 50% of the sales proceeds. The artists set their own prices based on the costs of materials (it can vary greatly from one facility to another), the time spent on the piece, their experience, and simply - what they think it's worth. Alongside with offering a financial outlet, we aim to empower their confidence and reinstitute their status as human beings - not a number behind bars. For most, art is an escape, a path to self-discovery and healing. Through art, they can reconnect with society so the gap is not so unbridgeable when they get out. Through the sales, they can stay connected with their families, afford daily commissary items, pay societal debts, relieve the economic burden on their loved ones, and save up for the release date. So they have the financial means to get ahead of reinsertion and get a fair chance at that second chance.
✎ Product Details

9" x 12" | Pencil on drawing paper
✑ Artist's bio

Why I like art? Well, I've had art in my head for a long time. I just could not understand why it was there. My Pa beat my backside for drawing cows on my bedroom walls, so I quit for some time. 50 years. Then in 2001 I sat in an art class here in prison and a pop culture class. I know how to draw better looking cows now! I worked for three years in art class and two years in pop culture class. Then they took the classes out because it was not making them any money. The "Doc" that is. I've done some art since then and I came a long way from drawing cows on my wall. To doing some real art. I like my art anyway and I hope you'd like it too?? The CDOC destroyed 126 of my art works because I had no one to send it to or would sell them for me? Some of my art I just dream up and some I remember seeing somewhere? But my art comes from my head and I really like doing it. I am now 72 years of age and have seen a lot over the years and know a whole lot more now, but I do enjoy art and I'd like to see some that would like it too? My art that is. Art seemed to save my hope and I can sit back and say "Yes, I did that." As you can tell, I am a cowboy at heart and I love it. In pop culture class, I made two books that I've tried to get out to the outside people, but didn't have money. They want me to pay for making it into a book and then sell it? My first book is called Dave and the Vulture. It's 50 pages. The other one is called The Hill Billy Kid, and it's first chapter is 32 pages and I have 26 chapters that I still have to draw the scenes in. The teacher read the book and he really liked it, but said I needed to get it done. I said "no pens, no paper, can't get it done," but one day I'll get it done. I'm not asking for money. I ask that if you like my work, then go in line to Art for Redemption and see the prison art and if you like it buy it. I hope you enjoy my art as much as I do and I really like it. Thank you for your time and hope you enjoy the art?.
[◉"] Artist's social media
Share
View full details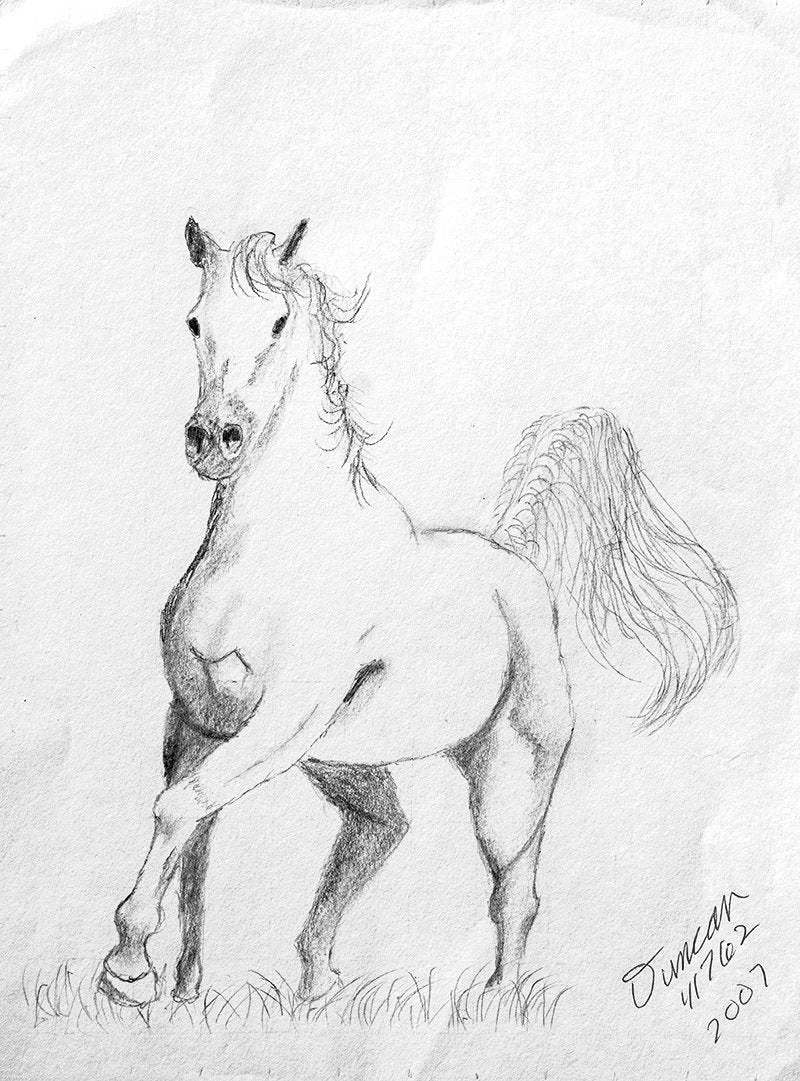 More from James R. Duncan