Regular price
$200.00 USD
Regular price
Sale price
$200.00 USD
Unit price
per
Sale
Sold out
"I enjoy riding motorcycles and have a soft spot for old Harleys and Indians. After drawing a 1912 Harley I've been meaning to get around to drawing another. It took roughly 9 hours to sketch it out before getting down to the detail work. Starting with the background, I shaded it several times before I had the depth of tone I was looking for.  Being left-handed, I started from right to left bringing this classic to life. The process went thus; front tire and rim, front forks, handlebars, frame around engine, gas tank, engine and sprocket, seat & fender, rest of frame, stand, rear tire."
⚖ Description

The artist is currently incarcerated in Washington. He specializes in highly realistic drawings/paintings. He like to reproduce a photography to the most realistic level.

All original artworks are created by artists previously or currently incarcerated. They use whichever materials they have access to, and prove creative ingenuity beyond the norm. These original paintings and drawings are born in the heart of a prison cell, from the hands of an outsider artist to adorn the walls of your space. Each art piece is a one-of-a-kind that not only enhances your interior but also makes you actively participate in reforming the prison and criminal justice system.

The incarcerated artist receives 50% of the sales proceeds. The artists set their own prices based on the costs of materials (it can vary greatly from one facility to another), the time spent on the piece, their experience, and simply - what they think it's worth. Alongside with offering a financial outlet, we aim to empower their confidence and reinstitute their status as human beings - not a number behind bars. For most, art is an escape, a path to self-discovery and healing. Through art, they can reconnect with society so the gap is not so unbridgeable when they get out. Through the sales, they can stay connected with their families, afford daily commissary items, pay societal debts, relieve the economic burden on their loved ones, and save up for the release date. So they have the financial means to get ahead of reinsertion and get a fair chance at that second chance.
✎ Product Details

11" x 14" | Blick studio drawing pencils on Strathmore 300 series Bristol board
✑ Artist's bio

Hello art fans, supporters and patrons. Thank you for visiting the Art for Redemption website and let me tell you about myself. My name is Theodore P. Gilliland, a self-taught artist who has been drawing for as long as I can remember. My first memory of drawing the Roadrunner from the cover of a comic book. I don't remember what the finished picture looked like, but it must have encouraged me because I've been drawing ever since. Over the years, I've worked in watercolors, acrylics and colored pencils, but most of my artwork has, until the last year and a half, been in graphite pencil using Ticonderoga's best #2 pencil (mostly because that's what I had in hand). In 2020, I bought my first artist's pencil set and learned through trial and error the proper application of them to produce a better quality drawing. Additionnally, in recent years, I experimented with different techniques and media. However, priorities and tastes change with time and I decided to place my focus into graphite drawing and painting while forging color pencil for the time being. In 2015, as part of a late life college degree, I took my sole art class ever. Through the direction of my instructor, Mr. Flemming, I really learned to develop an eye for detail that my art previously lacked. Since then, through purposeful practice, I've seen steady improvement in my work. Also, I have chosen pieces that continually challenge me as an artist. This has resulted in my work being placed in art shows and galleries both nationally and internationally. Still, until recently the artwork I produced was given as gifts to family & friends. Rarely do I do commission work as I prefer to draw/paint what I like and intrigues me. If others like and appreciate it, great. If not, I still do. In closing, I again thank you for stopping by this site and hope you find some artwork by myself or another incarcerated artist that will hang handsomely in your home or place of business. .
[◉"] Artist's social media
Share
View full details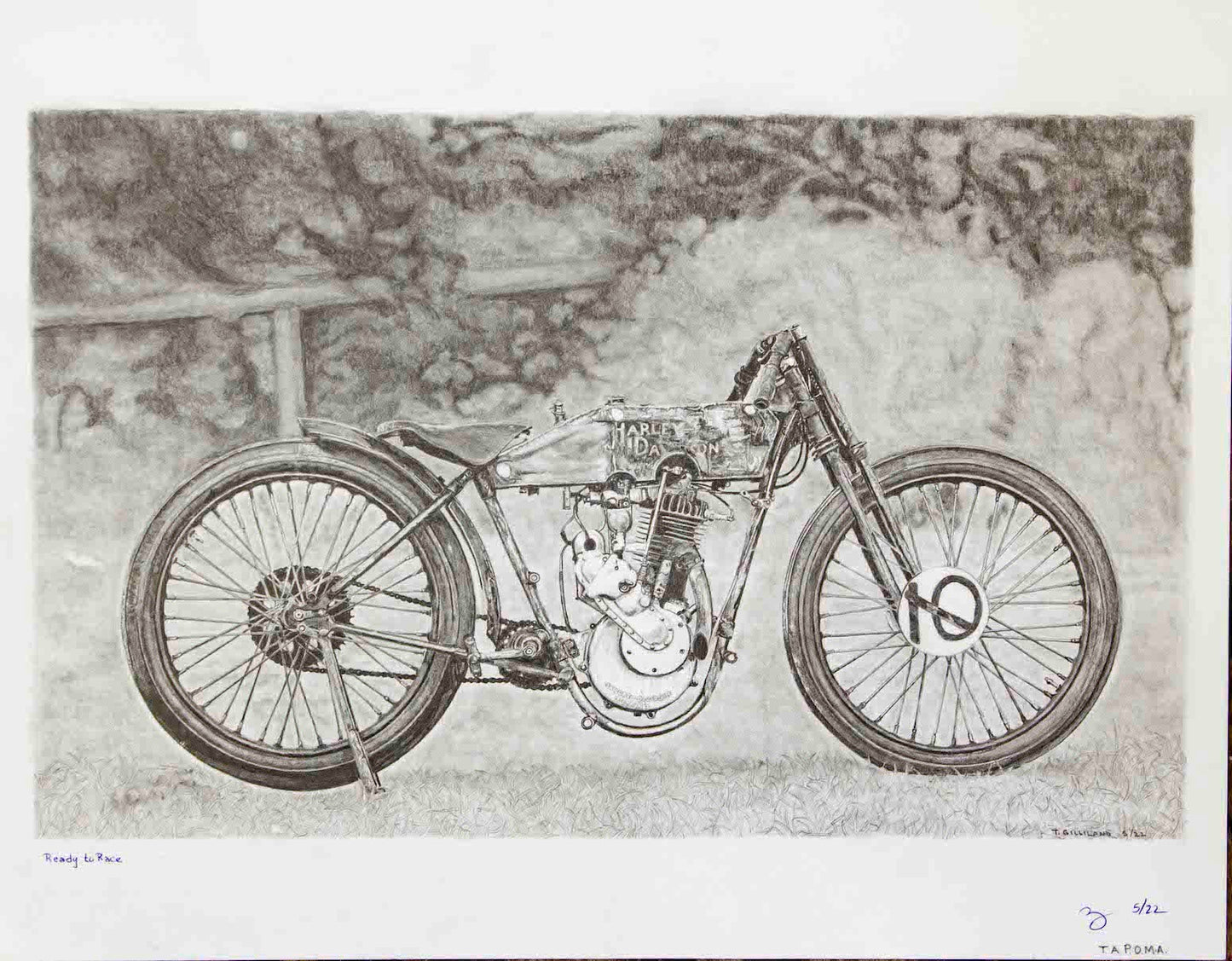 More from Ted Gilliland
Vendor:

Regular price

$175.00 USD

Regular price

Sale price

$175.00 USD

Unit price

per

Vendor:

Regular price

$200.00 USD

Regular price

Sale price

$200.00 USD

Unit price

per